About two weeks after chemo starts, hair loss typically begins.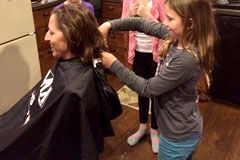 Some women choose to cut or shave their hair rather than cope with chunks of hair falling out. This can be a very difficult time. Women know they are sick, but seeing themselves without hair is the first time they physically look sick. Some women have a hard time looking in the mirror at first as many women don't want to see themselves looking like a cancer patient. It will get easier.
Hair loss is not isolated to just hair on the head. Hair loss will likely occur everywhere: pubic hair, underarm hair, leg hair, facial hair, nostril hair and arm hair. Eyelashes and eyebrows typically are the last two places where one loses hair and may not happen until months into treatment. About six months after chemotherapy ends, most hair returns.
Wearing hats, scarves, bandanas, wigs or going bald are all options during treatment. Choose what you are comfortable with.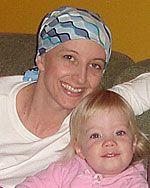 Hats, Scarves, Bandanas
When choosing what to wear, consider soft fabrics that won't irritate your skin. Cotton and silky materials are lightweight and breathable. If you choose not to wear hats during the day, you may want to purchase a few to sleep in. Many women find that their head gets cold without one.
Wigs
Wigs can look very natural and come in many colors, including highlights. In most cases, people won't know you're wearing a wig unless you tell them. Try to have as much fun as you can with this. Some women buy multiple wigs and use this as an opportunity to experiment with different hair colors and styles. If you want to find a wig that matches your natural hair color and style, shop for wigs before you lose your hair. You also will want to pay attention to where your hairline begins so you know where to position the wig once your hair is gone. Most women's hairline begins about three finger widths above their eyebrows.
When selecting a wig, make sure to work with someone that will help you order the right size. If a wig is uncomfortable, it may be the wrong size. Some people wear a wig cap under their wig for added comfort. The hospitals have staff that can help you get started. They have some wigs available for you to try on. They also can order wigs for you or give you a list of stores in the area that sell wigs.
There are a variety of considerations when selecting a wig.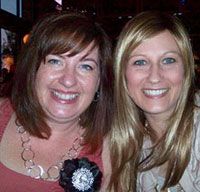 SYNTHETIC WIGS
Easy to take care of; wash about once per week. After washing, the wig is placed on a wig stand or hung to air dry. The style of the wig will automatically return. Once dry, brush and go.
Synthetic hair requires a special wig shampoo, hair spray and brush. When ordering a wig, ask what products to use.
Heat will singe synthetic hair, therefore should not be worn while cooking. Curling irons can't be used on most synthetic wigs, although there are some specialty synthetic wigs that will withstand the heat of a curling iron. If you want curl, choose a synthetic wig that comes curly. When you wash it, the curl will return to its natural shape. 
Synthetic wigs can be purchased in virtually any color, solid color or highlighted.
Not breathable; wearing one in the summer can get hot.
Because of the way synthetic wigs are made, they often have a bird's nest type of root. If you want a hairstyle with a distinct part, you may want to consider a synthetic wig with a monofilament part.
MONOFILAMENT PART
Wigs with a monofilament part are made differently and allow you to part your hair, just as you can part normal hair. If you don't want a distinct part in your hair, a regular synthetic wig should be fine.
REAL HAIR WIGS
Wigs made from real hair are more expensive than synthetic hair.
Real hair wigs require more maintenance and have to be styled and washed regularly, just like normal hair.
Real hair wigs can be purchased in virtually any color, solid color or highlighted.